Do you enjoy reading Young Adult titles? Are you interested in discussing them with others? Would you like to share your thoughts and opinions?
If so, why not join our YA Book Club?
Our YA Book Club for those aged 13+ meets in our lovely shop, once every six weeks, from 4:30-5:30pm.
Our next meeting is Wednesday 23rd January 2019 4.30-5.30pm.
We will be discussing Floored by Sara Barnard et al.
The Breakfast Club meets One Day in Floored, a unique collaborative novel by seven bestselling and award-winning YA authors: Sara Barnard, Holly Bourne, Tanya Byrne, Non Pratt, Melinda Salisbury, Lisa Williamson and Eleanor Wood. When they got in the lift that morning, they were strangers. Sasha, who is at the UK's biggest TV centre desperately trying to deliver a parcel; Hugo, who knows he's by far the richest – and best-looking – guy in the lift; Velvet, who regrets wearing the world's least comfortable shoes to work experience; Dawson, who isn't the good-looking teen star he was and desperate not to be recognized; Kaitlyn, who's slowly losing her sight but won't admit it, and Joe, who shouldn't be there at all, but who wants to be there the most.
And one more person, who will bring them together again on the same day every year . .
Previous Reads
When a creature dies, its spirit can go looking for somewhere to hide. Some people have space inside them, perfect for hiding. Makepeace, a courageous girl with a mysterious past, defends herself nightly from the ghosts which try to possess her.
Then a dreadful event causes her to drop her guard for a moment. And now there's a ghost inside her. The spirit is wild, brutish and strong, but it may be her only defence in a time of dark suspicion and fear.
As the English Civil War erupts, Makepeace must decide which is worse: possession – or death.
An inspiring, uplifting and sympathetic story about sexuality and self-acceptance, Lucy Sutcliffe's debut memoir is a personal and moving coming out story. In 2010, at seventeen, Lucy Sutcliffe began an online friendship with Kaelyn, a young veterinary student from Michigan. Within months, they began a long distance relationship, finally meeting in the summer of 2011.
Lucy writes about the incredible personal journey she's been on; from never quite wanting the fairy-tale of Prince Charming to realising she was gay at the age of 14, through three years of self-denial to finally coming out to friends and family, to meeting her American girlfriend Kaelyn.
When socialite Lexi Volkov almost overdoses, she thinks she's hit rock bottom. She's wrong. Because rock bottom is when she's forced into an exclusive rehab facility.
From there, the only way is up for Lexi and her fellow inmates, including the mysterious Brady. As she faces her demons, Lexi realises love is the most powerful drug of all … It's a dirty business getting clean.
Addiction, redemption, love and despair. Clean is Gossip Girl meets Girl, Interrupted, and it will have you hooked from the very first page
A teenage spy. A Nazi boarding school. The performance of a lifetime.Sarah has played many roles – but now she faces her most challenging of all. Because there's only one way for a Jewish orphan spy to survive at a school for the Nazi elite. And that's to become a monster like them.
Survive. Deceive. Resist.They think she is just a little girl. But she is the weapon they never saw coming… with a mission to destroy them all.
Five students go to detention. Only four leave alive. Yale hopeful Bronwyn has never publicly broken a rule.Sports star Cooper only knows what he's doing in the baseball diamond. Bad boy Nate is one misstep away from a life of crime. Prom queen Addy is holding together the cracks in her perfect life.And outsider Simon, creator of the notorious gossip app at Bayview High, won't ever talk about any of them again. He dies 24 hours before he could post their deepest secrets online. Investigators conclude it's no accident.All of them are suspects. Everyone has secrets, right?What really matters is how far you'll go to protect them.
Simon Spier is sixteen and trying to work out who he is – and what he's looking for. But when one of his emails to the very distracting blue falls into the wrong hands things get all kinds of complicated. Because, for Simon, falling for Blue is a big deal…
We are the Liars.
We are beautiful, privileged and live a life of carefree luxury.
We are cracked and broken.
A story of love and romance.
A tale of tragedy.
Which are lies?
Which is truth?
Eden doesn't turn up for school one morning and her boyfriend Liam is the prime suspect. Best friend Jess starts investigating, going back over her memories of the summer she spent with Eden and questioning them. "A thrilling journey through friendship, loss, betrayal and self discovery".
Book Reviews
Only Love Can Break Your Heart by Katherine Webber.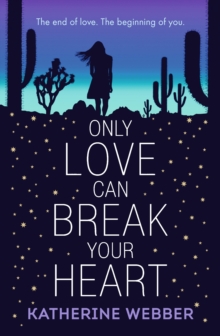 I was engrossed from the very start of this book. It is a story of friendship, love, loss, grief and growing up. Reiko is on course to be the brightest and best amongst her friends and at school, despite missing her sister. Her public and private sides compete, she has secrets to keep and is under pressure from her family. To escape she spends more and more time in the peace of the Californian desert. In the desert she meets Seth with whom she can be herself. After a glorious summer school begins. Can Reiko keep it all together? Is Seth who he seems?
Review by Katie.
Small Spaces by Sarah Epstein.
I very much enjoyed Small Spaces, it is mysterious, tense and well paced, with an interesting Now and Then narrative. Tash had a traumatic childhood thanks to her imaginary friend Sparrow. She saw him abduct a young girl, Mallory, from a carnival. Her family and therapist have persuaded her that what she saw was not real. Years later, Mallory and Sparrow reappear in her life. What mystery links them all? What is real? Who is the dangerous one?
Review by Katie.
One of Us Is Lying by Karen. M. McManus.
Put all of my old time favourite movies together – 10 Thing I Hate About You, The Breakfast Club, and an undertone of thriller and an omnipresent investigation and you get this book. Exciting, suspenseful with relateable characters. 10/10 recommend.
Review by Jess.
How to Hang a Witch by Adriana Mather.
I read this over a weekend as I was so gripped by the story that I could not put it down. Sam has just moved to Salem and finds that her ancestors, linked to the Witch Trials, are causing her trouble. The Descendants, a group whose ancestors were persecuted as witches, are set against her. Add in a ghost named Elijah, her neighbour Jaxon, a secret room, magic and a curse that must be broken and you have all the ingredients of a pacey, interesting read. Issues such as bullying, being an outsider and fitting in at school are also covered.
Review by Katie.
The Art of Being Normal by Lisa Williamson
This book is honestly so life changing for people that need someone to relate to or if they feel like their transition is taking too long. Being a trans person myself this book hit really close to home and I loved it so much. I always recommend it to people who want a new read.
Review by Bluseph – Young Adult Book Club member. 
Eden Summer By Liz Flanagan
So, 'thriller/suspense' aren't usually a genre I go for and I do tend to stay away from them as sometimes they can be a bit too much. Eden Summer has changed my mind about how I look at thrillers/suspense immensely and helped introduce me softly into books like that. I really like stories that are written in the first person as I feel like I am the character when reading the book. Eden got on my nerves a bit but she was going through a lot so I let it slide. Jess took a while to warm to and once I was used to her as a character it got better. Their friendship was so important and it really does get you thinking about your friends and how you would feel if this happened to one of them, or you. The book tackles some quite sensitive yet important subjects. The book made me feel a whole mixture of feelings. It makes you think about how we might unconsciously judge people at first glance without knowing anything about their life and what is going on with them. Liz Flanagan has created a wonderful piece of work that I enjoyed.
Review by Emily – Young Adult Book Club member.
Things a Bright Girl Can Do by Sally Nicholls
Beginning in 1914 this book follows the story of three strong young women. May is a Quaker and suffragist who campaigns tirelessly for the vote and to improve women's lives. Nell is a suffragette who comes from a poor background and is angry at, and fighting against the injustice around her. Nell and May fall in love despite their diverse experiences. Evelyn wants nothing more than to be allowed to go to university. When this is denied her she channels her anger into the suffragette movement. All three are fighting for women's freedom. Then the war begins and their lives change in unexpected ways. A fantastic read and a great way to introduce the fight for suffrage to children and young adults.
Review by Katie.
The Red Ribbon by Lucy Adlington
This is an incredibly powerful young adult book which centres on four young women – Rose, Ella, Marta and Carla. It is told from Ella's point of view and follows her from her first day in her new job in a sewing workshop. Only it is no ordinary first day as the workshop is in Birchwood (Auschwitz) and this is a story all about hope, friendship and survival. It is based on real sewing workshops within concentration camps. It is a wonderfully written story which brings home the horror of it's setting in a way which is all the more powerful because it is dealing with sewing and clothes, things that are not out of the ordinary.
Review by Katie.
If you would like more information or want to let us know that you are coming please email Katie or Louise at cornerbookshophalifax@gmail.com or call into the shop for a chat.