Thursday 23rd May: Jill Liddington – Writing Anne Lister. 7 pm.
How do you write about a woman who's already written a four-million word diary? About a woman whose every letter artfully resculpts the truth?
Come and join us to hear local historian Jill Liddington discuss her books on Anne Lister.
Tickets are £4. This includes a glass of wine.
This event is sold out.
Friday 31st May: The Wandering Poet Tour – Ben Guilfoyle. 7 pm.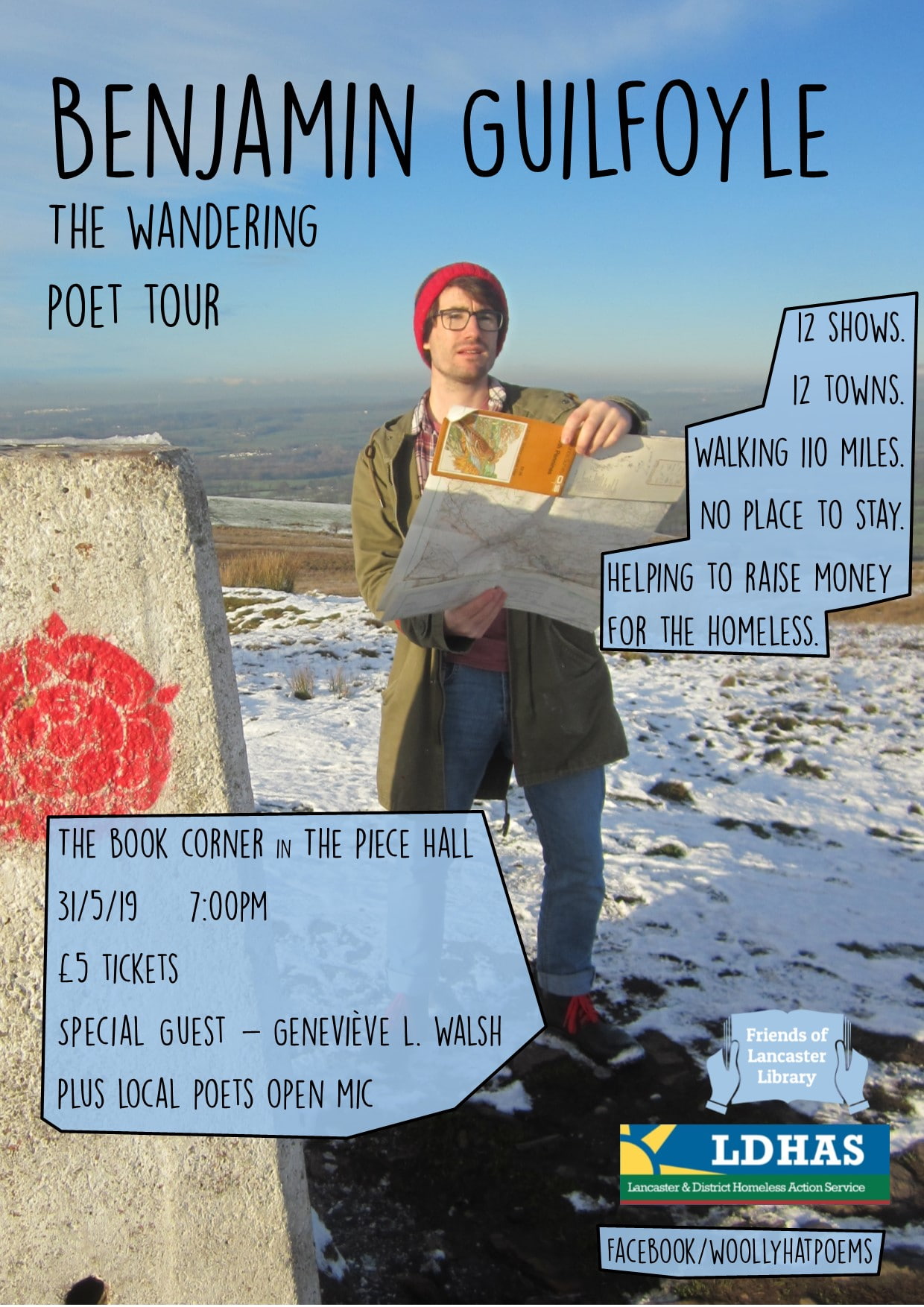 This is the eleventh show of the tour. This is a free ticketed event running on a donations / pay as you feel system. Free tickets are available here
Benjamin Guilfoyle aka 'The Woolly Hat Poet' is taking his poetry on the road as he walks 110 miles to raise money for the Lancaster Homeless Shelter and the Central Lancaster Children's Library. Performing 12 poetry shows on 12 consecutive days in 12 different towns Benjamin will be walking between each show relying on the kindness of his audiences to put him up for the night. Along the way Benjamin will be supported by guest poets from each town and open mic for those who would like to perform their own work.
Guest poet:
Geneviève L. Walsh:
Geneviève L. Walsh is a writer and performer of 'incomparable, socially aware poetry' [The Punk Site], who has performed at Kendal Calling, Long Division, Strummercamp, Festival8, Manchester Literature Festival, Wakefield Lit Fest and every scary backstreet pub you can imagine. Her debut collection The Dance of a Thousand Losers was published by Flapjack Press in 2017 and her one-woman show A Place in the Shade will debut later in 2019. She is the founder and host of Spoken Weird (Halifax), including its main night at the award-winning Victorian Craft Beer Cafe, and its LGBT+ sister event, Spoken Queered. She is also co-host of Stirred (Manchester) and co-founder of their Invisible Disabilities Slam, which debuted in 2017.
Keep checking here and on our Facebook, Twitter and Instagram for more news.
Previous Events
2019
Thursday 16th May  Turn The Page 11 Open mic night
Saturday 11th May – Dragon Daughter book signing with Liz Flanagan.
Monday 29th April – D-Day Dog by Tom Palmer launch.
April 2019 – Proudly supporting Independent Publishers:
Thursday 18th April Built on Sand by Paul Scraton book launch with Influx Press.

Thursday 11th April Zebra by Ian Humphreys poetry launch. Supported by Natalie Burdett and Zaffar Kunial with Nine Arches Press.

Friday 5th April  Leonard and Hungry Paul by Ronan Hession UK book launch with Bluemoose Books.
Thursday 28th March Turn The Page 10. Poetry, music, open mic night.
Friday 15th March – Carol Ann Duffy and Friends, partnering with The Square Chapel
Saturday 9th March – -Book signing with Linda Green.
Thursday 21st February – Story time with Cathy Calvert and Ned.
Sunday 3rd February – Dirty Bertie event with Alan MacDonald, partnering with The Square Chapel
Thursday 17th January    – Turn The Page 9. Poetry, music, open mic night.
2018
Saturday 15th December – Book Signing with Penny Thorpe, author of The Quality Street Girls
Thursday 6th December    – Book signing with Ben Myers and Bluemoose Books.
Saturday 24th November – Book signing with Martine McDonagh
Friday 9th November – The Light in The Dark: A Winter Journal with Horatio Clare
Thursday 1st November – Book signing with Andrew Bibby
Sunday 28th October – Book signing with The Yorkshire Vet – Peter Wright
Saturday 20th October – Burning Brightly: Northern Voices in YA with Liz Flanagan, Mark Illis, Danielle Jawando and Melvin Burgess
Friday 12- Sunday 14th October – Halifax Festival of Words
Saturday 6th October – Afternoon Tea with Alexander McCall Smith
Saturday 29th September  –  Book signing with Mary Jayne Baker
Thursday 27th September –  S.R. Whitehead Launch
Wednesday 12th September. Gaia Holmes Where The Road Runs Out launch
Monday 28th August. Poet's Corner with Keith Hutson and Mark Pajak
Thursday 23rd August.Turn The Page 7 . Poetry, spoken word, open mic night
Monday 30th July. WordPlay Summer Special Ft. Andrew McMillan, Professor Michael Symmons Roberts & Mark Pajak partnering with WordPlay and The Square Chapel
Thursday 5th July. Four Poets and Environmental Thinking poetry evening
Saturday 30th June. The Tiger Who Came to Tea Party
Thursday 21 June. Turn The Page 6. Poetry, spoken word, open mic night
Tuesday 29th May. Glow Anthology book launch with Gaia Holmes
Sunday 27th May. Benjamin Myers: Under The Rock book signing
Saturday 19th May. Roger McGough: As Far As I Know Tour partnering with The Square Chapel
Monday 14th May. Jill Liddington: Winning Votes For Women in Halifax and Beyond. Talk, Q&A, book signing
Wednesday 26th April. Hollie McNish Plum Tour partnering with The Square Chapel
Thursday 19th April. Turn The Page 5. Poetry, spoken word, open mic night
Wednesday 18th April. Launch of Light After Light by Vicky Gatehouse
Saturday 14th April. Book signing with Julia Chapman
Saturday 7th April. Book signing with Mary Jayne Baker
Thursday 7th December. Book Signing with The Yorkshire Vet – Julian Norton
Saturday 20th January. Stuart Maconie Long Road From Jarrow Tour partnering with The Square Chapel
2017
Sunday 26th November. George Costigan in conversation with Willy Russell partnering with The Square Chapel